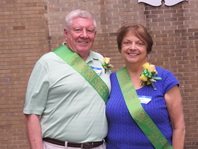 We are pleased to have Paul Sr. and Connie Newman as this year's King and Queen!

For the past 31 years Paul and Connie have played major roles in the Fairborn Community starting with their involvement at Wright State University.

In 1985 Paul joined Wright State University and served as Senior Associate Athletics Director for 21 years before retiring in 2006. He appointed Executive Director of the Fairborn Area Chamber of Commerce from 2009-2016 and has been a 29-year member of the Fairborn Rotary Club where he acted as its President in 1990. He has served on committees involved the USAF marathon, Fairborn's 9/11 memorial and the Fourth of July festivities.

He is a Hall of Fame member of College Spoirts information Directors of America, Edinboro University and Wright State Athletics. He received the President's Award for Excellence in Service from Wright State University, the Distinguished Alumni Award from Edinboro University and the Chambers Civic Excellence Award.

Connie began a 10-year stint in 1985 as an Administrative Assistant at Wright State's Catholic Campus Ministry. Owning an education degree from Kent State University, she spent 8 years teaching kindergarten at the Fairborn Preschool and Day Care where she emphasized reading and now serves as the school's board chairperson.

An active participant in the Fairborn community, Connie was recently chosen as the Co-Volunteer of the Year for the Fairborn Senior Center where she and several members are involved in fundraising activities to purchase a new bus for the Center. She also volunteers as a bingo coordinator for Wright Nursing Home at the Central Senior Apartments.

Additionally, Connie has participated in the simulated patient program for Wright State's Boonshoft School of Medicine. This year she aided in setting up the Lion's Club vision testing in Fairborn's kindergarten programs.

Both Paul and Connie are members of the Fairborn Lion's Club.

Having celebrated 51-years of marriage Paul and Connie have three children: Paul Jr., the Fairborn Chamber of Commerce Executive Director; Michele, a social worker at Haven Hospital; and Scott, a Wright State Physician's staff member. They have two grandchildren: Sam and Mya.

Past Kings and Queens

Year King Queen
2015 Leroy Farthing Ellen Slone-Farthing (husband and wife)
2014 Carl Day Rhonda Day (husband and wife)
2013 Fred Pumroy Sue Red
2012 Loren Red Jane Trame
2011 Ray Wylam Dorothy Taylor
2010 Bob Carico Linda Riffle
2009 Mike Foy Carolyn Hollon
2008 Ron Russell Cathy Barber (husband and wife)
2007 Raymond Acus Marlene Acus (husband and wife)
2006 Dr. John Peterangelo Norma Nikkola
2005 Ron McDermott Metta Whitt
2004 Thomas Swaim Janet Swaim (husband and wife)
2003 Dr. Michael Horton Marcia Horton (husband and wife)
2002 Jim Baines Joan Dautel
2001 Ray Brentlinger Terri Brentlinger (husband and wife)
2000 Dr. Lynn E. Wolaver Arah-Dean Wolaver (husband and wife)
1999 Jim Leatherman Rena Leatherman (husband and wife)
1998 Joe Martin Evelyn Dobson
1997 Jack Huelsman Sonia Martin
1996 George Gehlauf Dawn Baines
1995 Louie DiPasquale Mary Cocca
1994 John Dalton Dottie Gheen
1993 Bob Kneisley Garnette Birch
1992 Bill Strautman Margaret Grube
1991 Al Knisely Alice Mae Warner
1990 Bob Martin Martha Fryant
1989 John Meyer Georgia Hale
1988 George Armstrong Lillian Beam
1987 Dan Hoak Dorothea Hoak (husband and wife)
1986 Harold Batdorf Marie Kendig
1985 Shorty Dapore Mary Poole
1984 Bud Warner Helene Morris
1983 Fred Kaufman Inez Armstrong
1982 Art Roehner Ila Stutle