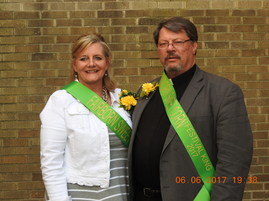 We are very happy to introduce this year's Fairborn Sweet Corn Festival King and Queen, Pastor Craig Fourman and his wife Leann. They have been residents of Fairborn for 25 years and are very active in the community.

Pastor Craig has been the Lead Pastor at Abiding Christ Lutheran Church in Fairborn for 25 years. He has served the larger church in a variety of capacities including past chair of the Synod Nominating Committee, past chair of the Reference and Counsel committee for synodical Assemblies, the Candidacy committee for the ELCA, an Adjunct faculty member for Trinity Seminary and more.

Leann has working for 20 years at WPAFB and has also been active in the church as a Liturgical Assistant, Sunday School Teacher, Leader of Women's Ministries, served on the Witness and Giving Teams, member of the Congregational Council and more.

Both are extremely active in the community.

Pastor Craig has served as the President of the Board of the Senior Citizen's Association, Fairborn Cares steering committee, Board member of the Fairborn Community Center, President of the Fairborn Rotary Club, Fairborn City Schools building reorganization task force, Fairborn Civic Band, Fairborn Regional Orchestra, Lead Pastor of the Lutheran Saints in Ministry Collaborative, President of the Fairborn Downtown Betterment Association, Board of the Fairborn Lion's Club, and Treasurer for many organizations including Fairborn City School levy effort, "Future Fairborn" PAC, "Fairborn Coming Together" PAC, election committee for Mayor Dan Kirkpatrick, councilman Stuart Snow and Angi Botkins, School Board.

Leann has also served the community in many capacities including: Chair of the Hospitality Team for Black Lane PTO, Cheerleading advisor for Fairborn Wee Hawks, Girl Scout Leader, Volunteer Coordinator for YMCA Girls basketball team, Liaison with Fairborn Park and Rec for Hometown Christmas Caroling, Gift distribution coordinator Sonset Café North feeding site and for Interfaith Hospitality Network of Greene County, Past Secretary and current Tail twister for the Fairborn Lion's Club, Volunteer for Lutheran Saints in Ministry Community VBS, Treasurer and Coach for Fairborn Girls Softball Association, Board Member Victorian Tea and Dinner Theater, Member of Mayors Beautification Committee, and Board Member of the Downtown Fairborn Betterment Association.

I'm pretty sure there are several things that I have missed because they are both extremely active.

Both Pastor Craig and Leann have been recipients of the Paul Harris Fellowship from Rotary.

They have 4 daughters and 4 grandchildren.

Please help me in congratulating Pastor Craig and Leann Fourman on being this year's Fairborn Sweet Corn Festival's King and Queen!
Past Kings and Queens

Year King Queen
2016 Paul Newman Connie Newman (husband and wife)
2015 Leroy Farthing Ellen Slone-Farthing (husband and wife)
2014 Carl Day Rhonda Day (husband and wife)
2013 Fred Pumroy Sue Red
2012 Loren Red Jane Trame
2011 Ray Wylam Dorothy Taylor
2010 Bob Carico Linda Riffle
2009 Mike Foy Carolyn Hollon
2008 Ron Russell Cathy Barber (husband and wife)
2007 Raymond Acus Marlene Acus (husband and wife)
2006 Dr. John Peterangelo Norma Nikkola
2005 Ron McDermott Metta Whitt
2004 Thomas Swaim Janet Swaim (husband and wife)
2003 Dr. Michael Horton Marcia Horton (husband and wife)
2002 Jim Baines Joan Dautel
2001 Ray Brentlinger Terri Brentlinger (husband and wife)
2000 Dr. Lynn E. Wolaver Arah-Dean Wolaver (husband and wife)
1999 Jim Leatherman Rena Leatherman (husband and wife)
1998 Joe Martin Evelyn Dobson
1997 Jack Huelsman Sonia Martin
1996 George Gehlauf Dawn Baines
1995 Louie DiPasquale Mary Cocca
1994 John Dalton Dottie Gheen
1993 Bob Kneisley Garnette Birch
1992 Bill Strautman Margaret Grube
1991 Al Knisely Alice Mae Warner
1990 Bob Martin Martha Fryant
1989 John Meyer Georgia Hale
1988 George Armstrong Lillian Beam
1987 Dan Hoak Dorothea Hoak (husband and wife)
1986 Harold Batdorf Marie Kendig
1985 Shorty Dapore Mary Poole
1984 Bud Warner Helene Morris
1983 Fred Kaufman Inez Armstrong
1982 Art Roehner Ila Stutle